Introduction...
Welcome to the Hawkes Bay RC Speedway Club Established 2007
The Hawkes Bay club race 3 different classes with the Street Stock class the cheapest to start out with then comes 540 Stock Car which is more realistic in speed then comes Super stock class like the real cars the most expensive class.
The Hawkes Bay club runs at 11 Johnson way Whakatu an outside venue at present but are always on the lookout for an undercover/indoor venue, Club days are held on the first Sunday of the month weather permitting.
Club days although only run once a month we run one round in the morning and one round in the afternoon so we compete in 3 x 12 lap heat races per class and 1 x 20 lap feature in the morning and the same in the afternoon where club members are competing for points that are tallied at the end of the season with the winner receiving a trophy and prize's.
Proudly sponsored by One seven rc and Kokpit Racing.
The main focus for the Hawkes Bay club is to help each other and to have fun.
There is also a club Street stock you can have a go with if you are thinking about joining us to have some fun before you spend your money come and have a go. Kindly donated by Lowe racing and Booker racing.
Classes Raced...
Super Stock
540 Stock Car
Street Stock
Membership Fees… individual Membership $15.00 and $10 NZRCA licence.
Family Membership...
$35 and $10 per member for NZRCA Licence.
Club Day Race Fees…
$5 if you help setup and cleanup
$10 if you don't help setup and clean up
Travelling visitors No charge
Club Day Race Times…
9am setup
Scrutineering 9.45am to 10am
First Race 10.15 am
RC Speedway Hawkes Bay
11 Johnson Way
Whakatu
Hastings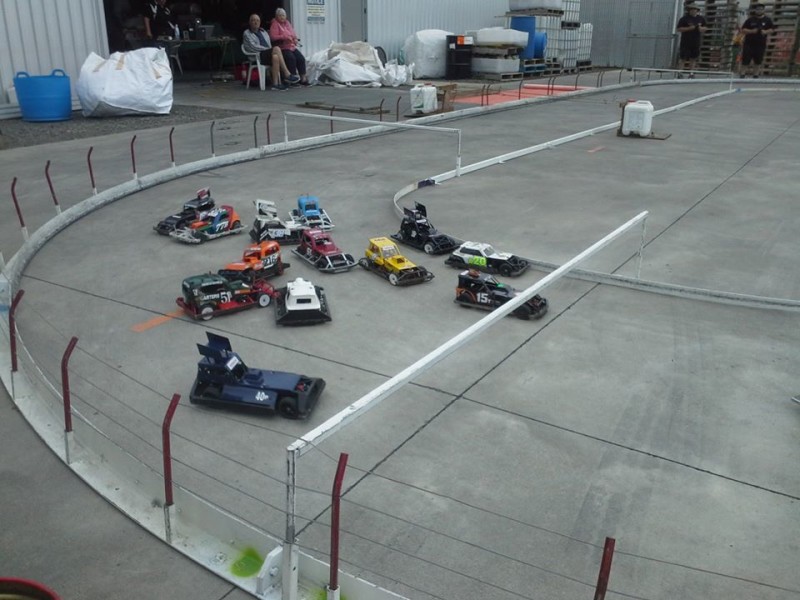 Track Surface - Smooth concrete
Straight Length - 17 ms
Overall Length - 21 ms
Straight Width - 1.8 ms
Corner Width – 2.5 ms
---